100% Free Shipping

100% Secure Checkout

100% International Warranty

100% Moneyback Guarantee
Blending minimalist style with modern and innovative lighting, Slichic Floor Lampis an break iconic in design and aesthetics. A unique and innovative design combined with flawless modern lighting. Perfect for living rooms and bedrooms. More a piece of art than a lamp. Light up your space beautifully, create the perfect ambience.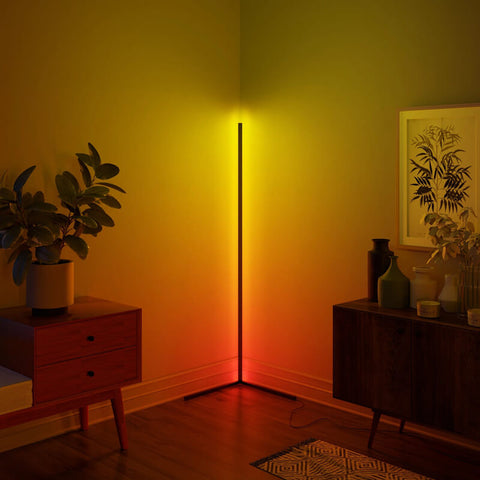 Gorgeous Atmosphere Light: Takes high quality LED light strips, this mood lamp add multicolors to your living life. A true standing luminous lamp creates the ideal atmosphere for your room, The light is soft and without glare.
Minimalist Corner Lamp: Corners are a part of every room, most of them are empty. The beautifully designed space saving led floor lamp fits discreetly and perfectly into corners. A true mood lamp, create the ideal ambiance.
Remote & Dimmable: This dimmable RGB floor lamp offers a multitude of options for different requirements. you can control color and brightness by remote control. the remote control distance up to 30m.
Stable Structure: Acrylic lampshade, the base is robust, not easy to rust. Stable and durable prevents the lamp from tipping over, even in uneven rooms.
Quick-Easy Installation:
Our floor lamp is easy to install and works perfectly in your office, massage or spa room, bedroom or wherever you need ambiance lighting.
Specification:
Colour Effect: 330+ multicolour effects, 1+ million colours
Function: stop/start/pause
Multicolour Effects Running Speed: Adjustable
Dimmable: Yes
Remote Controlled (multiple lamps can be controlled via one remote)
Height: 140cm / 55" 
Leg Length: 40cm / 15.7" 
Power: 100-240v / 20 W / 50hz
Cord Length: 250cm / 98"
UK/AUS/US/EUR plugs included with universal adapter 100-240v
Package List:
1x Floor Lamp
1x Remote Control