UV Sanitizer- The sterilizer use bacteria-zapping UV disinfectant light targets in on those difficult to reach areas, eliminating germs and up to 99.9% of bacteria. Press clean switch to start sterilizing with indicator lights keeps green; the Machine will stop automatically after 6 minutes while clean is finishing.
WORKING PRINCIPLE - Adopting ultraviolet disinfection technology, using a high-intensity UVC ultraviolet light to destroys the DNA of microorganisms to kill growth cells and regenerative cells to achieve the purpose of sterilization.
FAST & EFFECTIVE STERILIZING - This sterilizer box with built-in 2pcs UV light bar offers a high sterilizing rate up to 99.9%, effectively kill bacteria and other pathogens in 6 minutes, keep you and your children away from germs.
EASY TO USE & CARRY - Very simple to operate, just plug it into a USB port on PC/power bank/USB charger, place your cell phone or other items in, press button and start sterilization. Compact size and lightweight, easy to carry to use.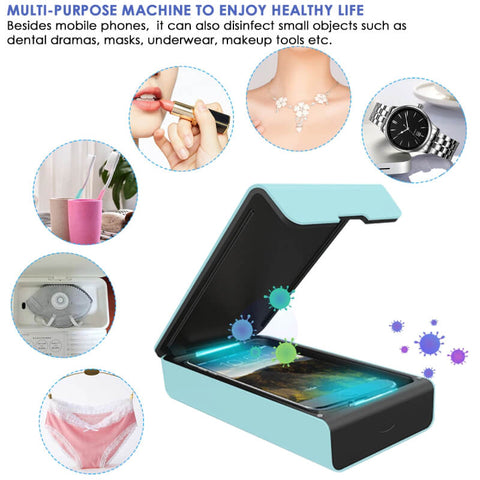 WIDE APPLICATION - The inner size of the sterilizer is 175x100x22mm, can accommodate smartphones up to 6.5 inches. Besides, it also can disinfect keys, jewelry, makeup brushes, and other small items. Best gift for yourself and anyone who cares about hygiene.
Features:
High transmission ultraviolet light offers high sterilizing rate up to 99.9%
Strong UV can quickly destroy the microbial DNA structure to kill bacteria
UV light bar at two ends has a long service life up to 20,000hrs
Easy to operate with two buttons for sterilization and aromatherapy
Large inner space can accommodate up to a 6.5-inch smartphone
Compact size and lightweight, easy to carry
Suitable for the disinfection of cellphone, toothbrush, keys and other small toys.
Specifications:
Item Type: Multi-function UV Sterilizer Box
Rated Voltage: DC 5V
Input Current: 1-2A
Disinfection Power: 2W
Disinfection Time: 2mins
UV Wave Length: 253.7nm
Material: Plastic + Electronic Components
Product Outer Size: 209 x 110 x 44mm
Inner Size: 175 x 100 x 22mm
Color: White, Blue