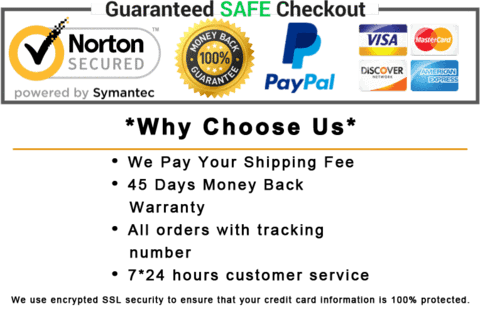 Our original tried and tested at-home IPL laser hair removal handset. This much loved little handset has changed the lives of over 75,000 people around the world and it can change your life too. Treat any body part (yes ANY part) in just minutes, all from the comfort of your own home. The HappySkin Classic comes with 600,000 flashes (enough to last you over 10 YEARS) and the best part is, there's absolutely no hidden costs - no need for refills or replacements, ever!
PAINLESS HAIR REMOVAL: This hair removal helps you to achieve permanent hair removal and smooth skin through breaking the cycle of hair regrowth, it is very gentle, especially for first-time users or for treating any areas, such as the face or bikini line. Automatic mode can be used in large epilating areas such as arms, legs, abdomen, and back. 4.5cm Big flash window can help you remove hair quickly and save your time effectively. Treats your lower leg in just 5-8 minutes.
NO DISPOSABLES REQUIRED: Hair removal device with 600,000 flashes. It is an effective & permanent light hair removal device and a lifelong purchase. Large LCD design makes it easier to see all data at a glance. And a clear display of the remaining number of times. Not need spending much money and time on monthly salon appointments.
HOW TO USE HAIR REMOVAl: Using twice per week in the beginning. When the hair stops growing or only some fine hair grows, use at least 1 time per month for maintenance. The use frequency may different according to the different individual situations. Change operation times according to the actual hair density. The operation interval varies with different individual situations. 
FAST & NOTICEABLE RESULTS HAIR REMOVAL: Clinically tested for the most effective and fast permanent visible hair removal system, deactivates hair follicle from the root to decrease hair growth permanently. Hair was reduced by more than 82% after 4 weeks. And the hair becomes significantly less and thinner in 6 weeks treatment. Permanent hair reduction in just 8 weeks. Professional, gentle, effective, the best choice for removing extra body hair and smooth skin.
PREMIUM QUALITY AND SERVICE: Your comfort and satisfaction are our priority. If you have any problems with it or questions, please feel free to contact us and we will respond in time. We're standing by to assist you all the time.
 SPECIFICATIONS:
1. Applicable: 110~240V working voltage, suitable for all the countries in the world.
2. LCD Display: Providing clear information about the working modes, remaining flashes, and power levels
3. Skin Detection Ability: Numbers on LCD Display blinks when the unit is ready to work
4. Permanent: IPL works inside pores, destroys hair papilla, thus achieves permanent hair removal.
5. Long Life: Quartz Lamp for hair removal with longer using life and durable use. 
6. Zero Consumables, No Medium, No consumables. 
7. Safe: No influence on normal sweat and sebum secretion. 
8. Convenient: Smaller size for Portable design and easily taken.


Package Contains. IPL Hair Remover x 1 PC, Adaptor x 1 set, EU US UK Three-in-one plug, Operation Manual x 1 PC,
Silky Skin Laser Hair Removal Handset