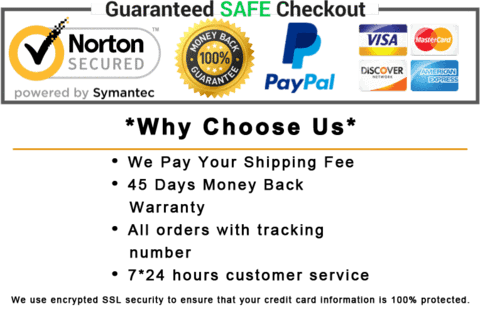 100% Free Shipping

100% Secure Checkout

100% International Warranty

100% Moneyback Guarantee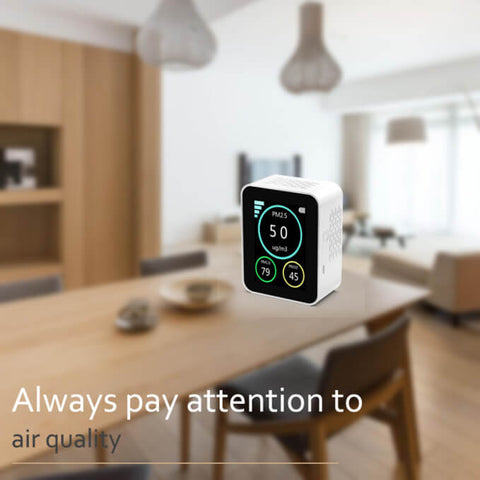 Due to environmental pollution, the PM2.5 in the air we live in continues to increase, posing a great threat to our health. Therefore, knowing and improving the air quality in our houses is very important to our health, so you need an air quality monitor to improve the quality of life.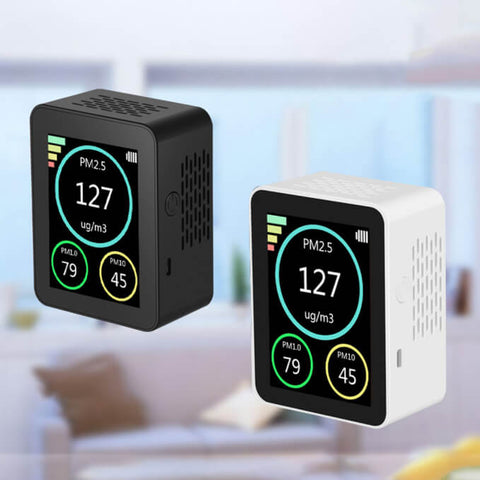 MULTIFUNCTIONAL & SCIENTIFIC: As our newest model, this indoor air quality test accurately assesses fine particulate dust matter (PM2.5/PM1.0/PM10) which travels deep into the respiratory tract, reaching the lung alveoli.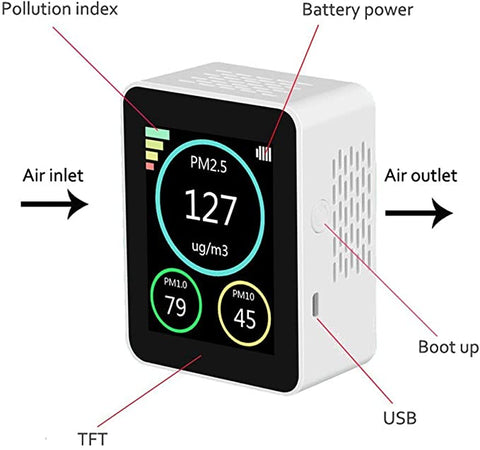 HIGH-PERFORMANCE CPU:  This air quality sensor has a 32-bit industry CPU that can make sure the detectors stay sensitive for the monitoring area and keep the data correct.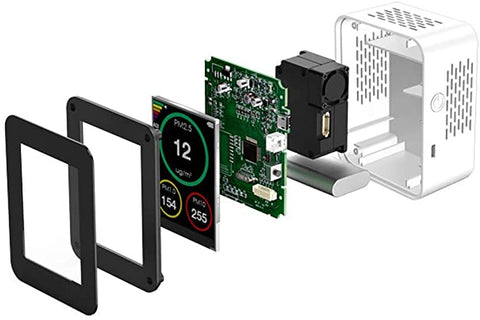 INDEPENDENT SENORS: The independent sensor can provide high-precision and sensitive digital monitoring and real-time warnings, conduct comprehensive indoor air quality monitoring so that you can always understand the air quality.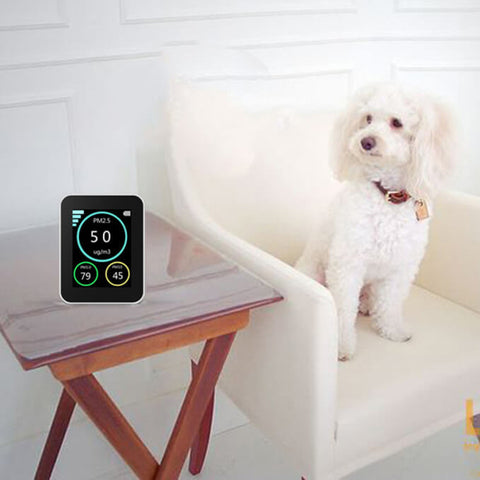 PORTABLE TESTING: Spot check indoor air quality anywhere or leave the device on for continuous monitoring. This easy-to-carry air quality meter can help monitor air quality at home, in the car, and in hotel rooms. The lithium battery provides portable power when DC 5V micro USB charging is not available.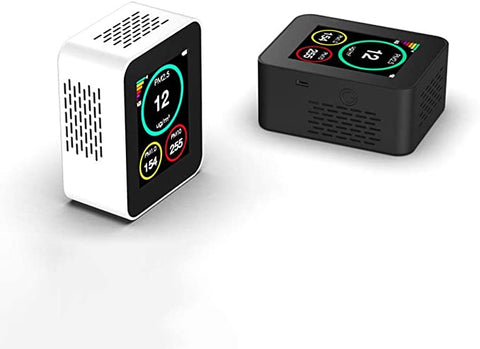 WIDE APPLICATION: It detects and takes care of your family's health around the clock. You can use it in houses, outdoors, cars, etc.
Specifications:
Material: ABS
Color: black, white (optional)
Battery: 1 * lithium battery, 1200mAh (included)
PM2.5 measuring range: 0-9999μg/m³
PM2.5 single response time: <1S
PM2.5 comprehensive response time: ≤10S
PM2.5 resolution: 1μg/m³
Particle counting efficiency: 50% @0.3μm 98% @ ≥0.5μm
Consistency of particle mass concentration: ±10% @100~500μg/m3,±10μg/m³
Temperature measurement range: -10~70℃
Temperature measurement accuracy: ±1℃
Humidity measurement range: 0%~99%RH
Humidity measurement accuracy: ±3%RH
PM2.5 sensor: laser sensor
Charging method: DC5V 500mA Micro USB
Item size: 90 * 70 * 40mm / 3.5 * 2.8 * 1.6in
Item weight: 135g / 4.8ounce
Package size: 92 * 72 * 42mm / 3.6 * 2.8 * 1.7in
Package weight: 160g / 5.6ounce

Packing List:
1 * Air Quality Detector
1 * USB Cable